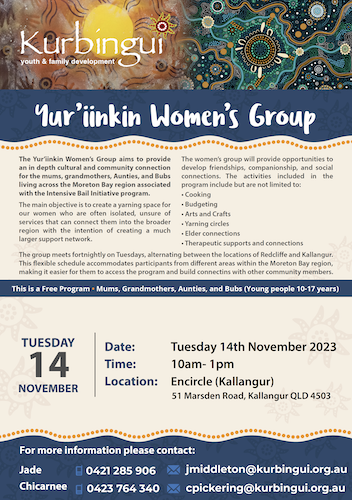 The Yur'iinkin Women's Group aims to provide an in depth cultural and community connection for the mums, grandmothers, Aunties, and Bubs living across the Moreton Bay region associated with the Intensive Bail Initiative program.
The main objective is to create a yarning space for our women who are often isolated, unsure of services that can connect them into the broader region with the intention of creating a much larger support network.
The women's group will provide opportunities to develop friendships, companionship, and social connections. The activities included in the program include but are not limited to:
Cooking
Budgeting
Arts and Crafts
Yarning circles
Elder connections
Therapeutic supports and connections
The group meets fortnightly on Tuesday's, alternating between the locations of Redcliffe and Kallangur. This flexible schedule accommodates participants from different areas within the Moreton Bay region, making it easier for them to access the program and build connections with other community members.
🗓 Date: Tuesday 14th November 2023
🕙 Time: 10:00 AM – 1:00 PM
📍 Location: Encircle (Kallangur)
51 Marsden Road, Kallangur QLD 4503
For Inquiries and more Information contact:
Jade P: 0421 285 906 | E: jmiddleton@kurbingui.org.au
Chicarnee P: 0423 764 340 | E: cpickering@kurbingui.org.au