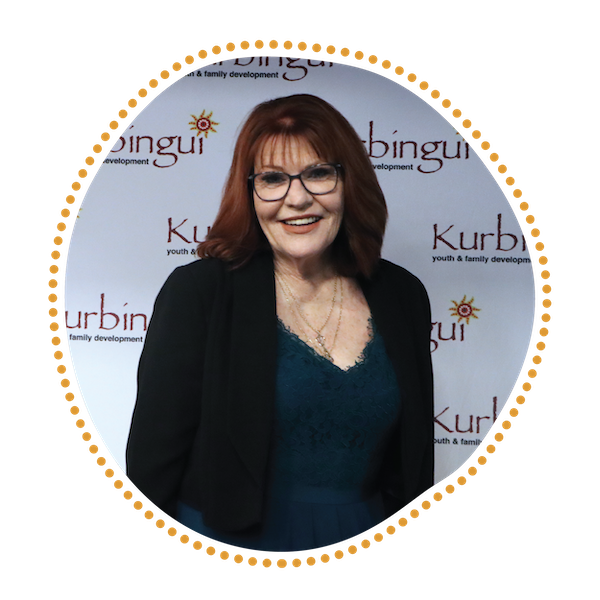 Glenda grew up on the south side of Brisbane and, after leaving school, worked briefly in retail and hairdressing before recognising at a young age her passion of working in the community service sector.
Glenda holds a Bachelor of Social Science with a Major in Psychology, a Graduate Diploma in Communication (Business), a Master of Business in Communication Studies, a Diploma in Community Development, a Certificate in Child Care and is currently undertaking a Graduate Diploma of Strategic Leadership. She has also undertaken significant professional development, training and community consultations in various areas of community services since her career began in the early 1980's. Glenda continues to study and undertake further training when possible to ensure she remains current in the work she does.
Glenda joined Kurbingui in January 2014 and is currently employed in the position of Chief Executive Officer. She has worked in various positions and areas within the community service sector which include support worker and practitioner positions, foster parent, counselling, training, and leadership, program management, and executive management in the Indigenous and Non-Indigenous not-for-profit sector spaces.
Glenda's professional experience extends to working with Traditional Land Owners / Elders and community members throughout the Western Cape, Woorabinda, Far North, Central, North, and South East regions of Queensland, establishing and implementing support services in areas such as Family, Youth, Mental Health, Early Years, Domestic and Family Violence, Community Safe Houses, Employment, Education, Training, Counselling, and School Programs within a "Place Based" approach aimed at achieving the best outcomes with community members specific to their place/community, the broader area, the people and their cultural practices, traditions, protocols and contemporary way of being. Throughout this time Glenda was not only privileged to work the with many Aboriginal Torres Strait Islander people in their communities but she was also mentored and taught by many of the Traditional Land Owners, Community Elders and other Community Members to support her learning and understanding of the value of the peoples' stories, history, protocols, practices, and their traditional and contemporary ways of living and working.
Glenda brings with her an understanding and compassion of engaging with Aboriginal and Torres Strait Islander peoples respectfully which has enabled her to support staff within a cultural framework that complements the work they do at Kurbingui and within the communities. She is a strong advocate for the community-controlled sector and works closely with staff, Traditional Owners, Elders and community members to deliver high quality services to all, continue to raise awareness about the uniqueness and beauty of the Aboriginal Torres Strait culture and the ongoing challenges, issues and disadvantage experienced by Aboriginal Torres Strait Islander people and the value of implementing community driven solutions.