SQW Certificate I in Workplace Skills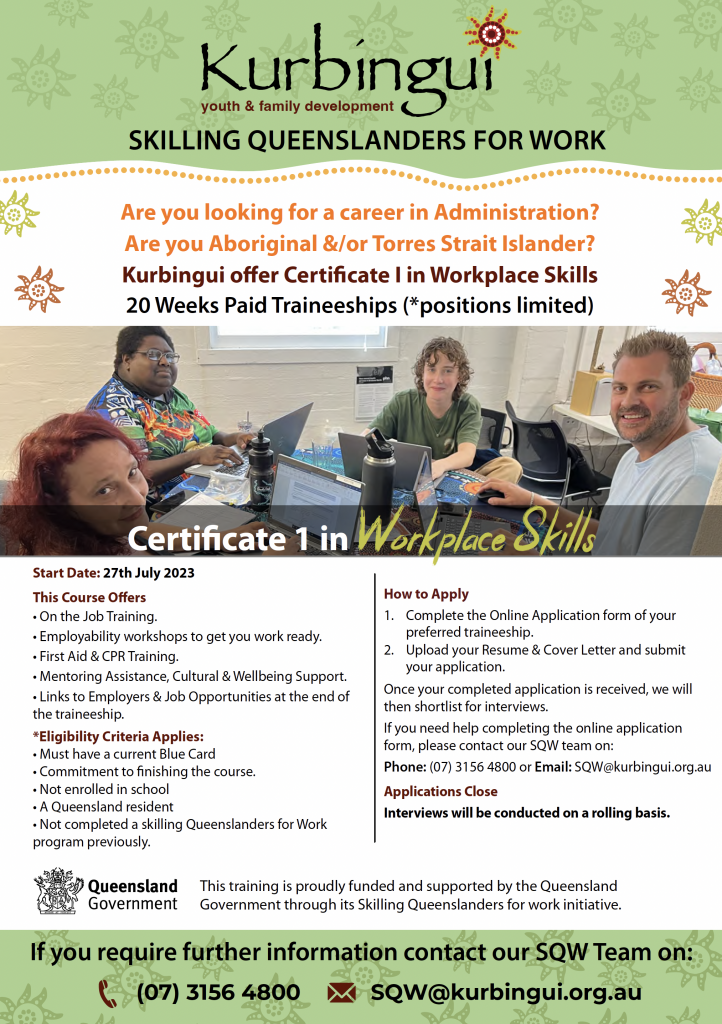 Are you Aboriginal &/or Torres Strait Islander and looking to start a career in Administration?
Kurbingui offer Certificate I in Workplace Skills
20 Weeks Paid Traineeships (*positions limited)
Start Date: 27th July 2023
This Course Offers
On the Job Training.
Employability workshops to get you work ready.
First Aid & CPR Training.
Mentoring Assistance, Cultural & Wellbeing Support.
Links to Employers & Job Opportunities at the end of the traineeship.
*Eligibility Criteria Applies:
Must have a current Blue Card.
Commitment to finishing the course.
Not enrolled in school
A Queensland resident
Not completed a skilling Queenslanders for Work program previously.
How to Apply
Complete the Online Application form of your preferred traineeship.
Upload your Resume & Cover Letter and submit your application.
Once your completed application is received, we will then shortlist for interviews.
Applications Close
Interviews will be conducted on a rolling basis.
If you need help completing the online application form, please contact our SQW Team on:
Phone: (07) 3156 4800 or Email: SQW@kurbingui.org.au