School Holiday Program (Glass House Mountains National Park)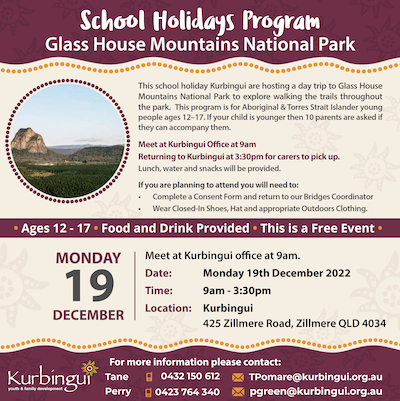 School Holiday Program (Glass House Mountains National Park)
Monday 19th December 2022
Meet at Kurbingui Office at 9am
Returning to Kurbingui at 3:30pm for carers to pick up.
Lunch, water and snacks will be provided.
 425 Zillmere Road, Zillmere QLD 4034
This school holiday Kurbingui are hosting a day trip to Glass House Mountains National Park to explore walking the trails throughout the park. This program is for Aboriginal & Torres Strait Islander young people ages 12-17. If your child is younger then 10 parents are asked if they can accompany them.
If you are planning to attend you will need to:
Complete a Consent Form and return to our Bridges Coordinator
Wear Closed-In Shoes, Hat and appropriate Outdoors Clothing.
For more information please contact:
Tane M: 0432 150 612 | E: TPomare@kurbingui.org.au
Perry M: 0423 764 340 | E: pgreen@kurbingui.org.au