Mental Health First Aid Course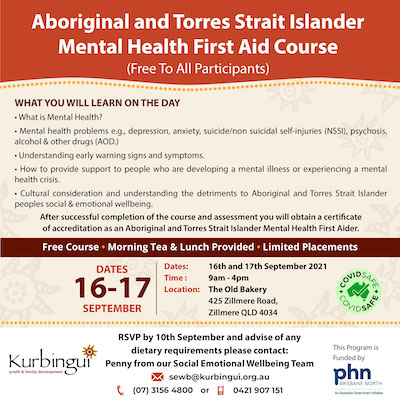 Free To All Participants
What You Will Learn
What is Mental Health?
Mental health problems e.g., depression, anxiety, suicide/non suicidal self-injuries (NSSI), psychosis, alcohol & other drugs (AOD.)
Understanding early warning signs and symptoms.
How to provide support to people who are developing a mental illness or experiencing a mental health crisis.
Cultural consideration and understanding the detriments to Aboriginal and Torres Strait Islander peoples social & emotional wellbeing.
After successful completion of the course and assessment you will obtain a certificate of accreditation as an Aboriginal and Torres Strait Islander Mental Health First Aider.
Free Course • Morning Tea & Lunch Provided • Limited Placements
Dates: 16th and 17th September 2021 
Time: 9am – 4pm
Location: The Old Bakery
425 Zillmere Road,
Zillmere QLD 4034
RSVP by 10th September and advise of any dietary requirements please contact:
Penny from our Social Emotional Wellbeing Team
Phone: (07) 3156 4800 or 0421 907 151
Email: sewb@kurbingui.org.au