If In Doubt – Wear A Mask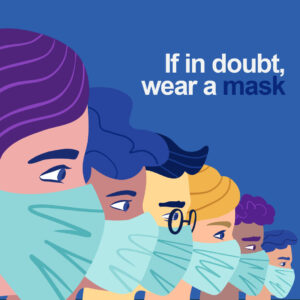 At 6pm, Monday 11 January 2021 face masks are mandatory in certain premises in Greater Brisbane.

If you are in an impacted area or have been in an impacted area at any time since 7am 2 January, you must carry a face mask with you at all times. You must wear a mask in indoor spaces, except in your home.
For example:
Shopping centres, supermarkets, retail outlets and indoor markets hospitals and aged care facilities
Restaurants and cafes, except when you are eating or drinking
Churches and places of worship
Libraries
Indoor recreational facilities and gyms
indoor workplaces (where you can't socially distance)
Airport terminals and on your flight
Public transport and when in taxis or rideshare vehicles.
You must carry a face mask with you at all times when you leave home, unless you have a lawful reason not to. This is in case you require your face mask, for example, if you aren't able to keep 1.5 metres distance from other people or enter a public indoor space.

It is strongly recommended that you wear a face mask outdoors when you are unable to stay more than 1.5 metres from other people, such as transport stops, busy walkways and thoroughfares.

Children under 12 years old and people affected by a medical condition or disability are exempt