Better Health Van Coming to Kurbingui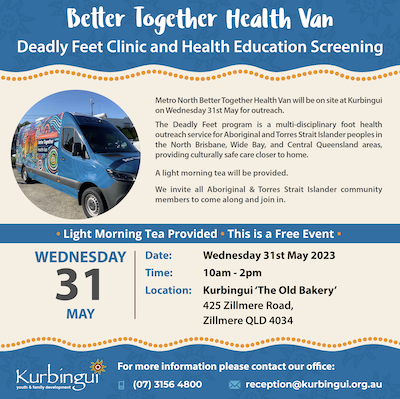 Hey you mob,
Our friends at Metro North Better Together Health Van will be on site at Kurbingui next Wednesday 31st May between 10am-2pm for outreach.
Date: Wednesday 31st May 2023
Time: 10am-2pm
Location: Kurbingui "The Old Bakery"
425 Zillmere Road, Zillmere QLD 4034
The Deadly Feet program is a multi-disciplinary foot health outreach service for Aboriginal and Torres Strait Islander peoples in the North Brisbane, Wide Bay, and Central Queensland areas, providing culturally safe care closer to home.
A light morning tea will be provided. We invite all Aboriginal & Torres Strait Islander community members to come along and join in.