Annual General Meeting Postponed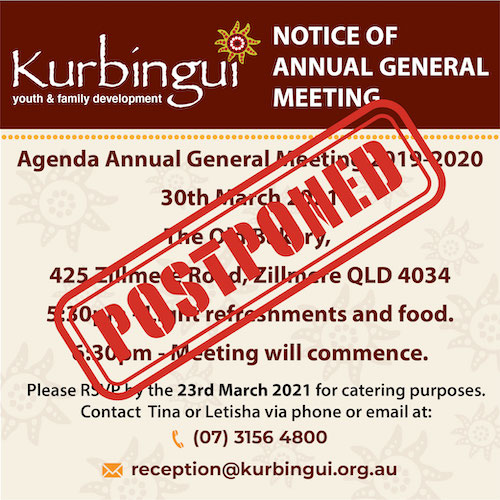 Due to the unforeseen circumstances Kurbingui Youth & Family Developments Annual General Meeting (AGM) has been postponed until further notice. Brisbane has entered a three-day lockdown to stop the spread of the highly contagious COVID-19.

From 5pm Monday 29th March 2021 , people in the local government areas of Brisbane, Moreton Bay, Ipswich, Redlands and Logan will be required to stay at home except:
Greater Brisbane will go into a three-day lockdown and restrictions will come into place across Queensland after cases of COVID-19 transmission were detected in the community.From 5pm today, residents in the local government areas of Brisbane, Ipswich, Moreton Bay, Logan and Redlands can only leave home for one of these four reasons:
1. To buy essentials such as groceries or medications
2. Work or study if you can't do either from home
3. Exercise in your local area
4. Healthcare or to provide help, care or supportResidents of these areas must also wear masks indoors except at home, including in ride shares, on public transport and in workplaces. Cafés, pubs and restaurants will be open only for take-away service.Schools in the locked down areas will remain open for children of essential workers.
For the rest of Queensland, masks should be worn while indoors outside of the home and private gatherings are restricted to 30 people.
To keep our most vulnerable Queenslanders safe, aged care, correctional centres, hospitals and disability service providers will close to visitors across the state.The restrictions will be reviewed on Wednesday evening.These measures are tough, but they are important to keep our community safe.

For more information, please visit: