Tailored Assistance Employment Program (TAEP)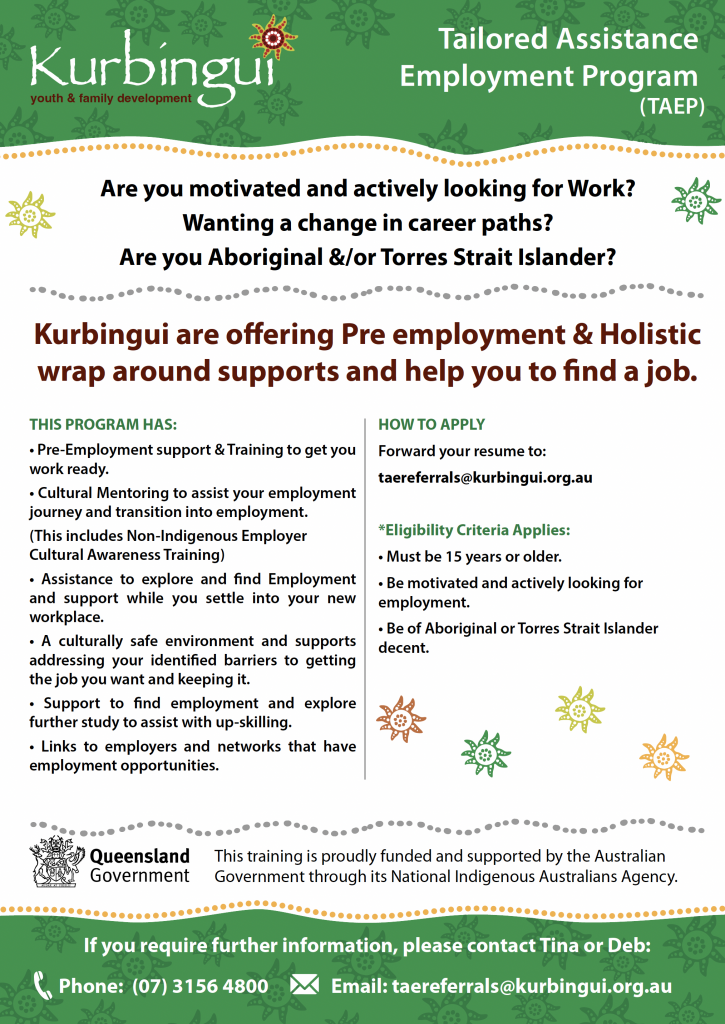 Tailored Assistance Employment Program (TAEP)
Are you motivated and actively looking for Work?
Wanting a change in career paths?
Are you Aboriginal &/or Torres Strait Islander?
Kurbingui are offering Pre-Employment and Holistic wrap around supports and help you find a job
THIS PROGRAM HAS:
Pre-Employment support & Training to get you work ready.
Cultural Mentoring to assist your employment journey and transition into employment.
(This includes Non-Indigenous Employer Cultural Awareness Training)
Assistance to explore and find Employment and support while you settle into your new workplace.
A culturally safe environment and supports addressing your identified barriers to getting the job you want and keeping it.
Support to find employment and explore further study to assist with up-skilling.
Links to employers and networks that have employment opportunities.
HOW TO APPLY
Forward your resume to:
*Eligibility Criteria Applies:
Must be 15 years or older.
Be motivated and actively looking for employment.
Be of Aboriginal or Torres Strait Islander decent.
If you require further information, please contact Tina or Deb:
Phone: (07) 3156 4800 or Email: taereferrals@kurbingui.org.au