SQW Certificate I in Workplace Skills (Admin)
Are You Looking to Start a Career in Administration?
Are You Aboriginal &/or Torres Strait Islander?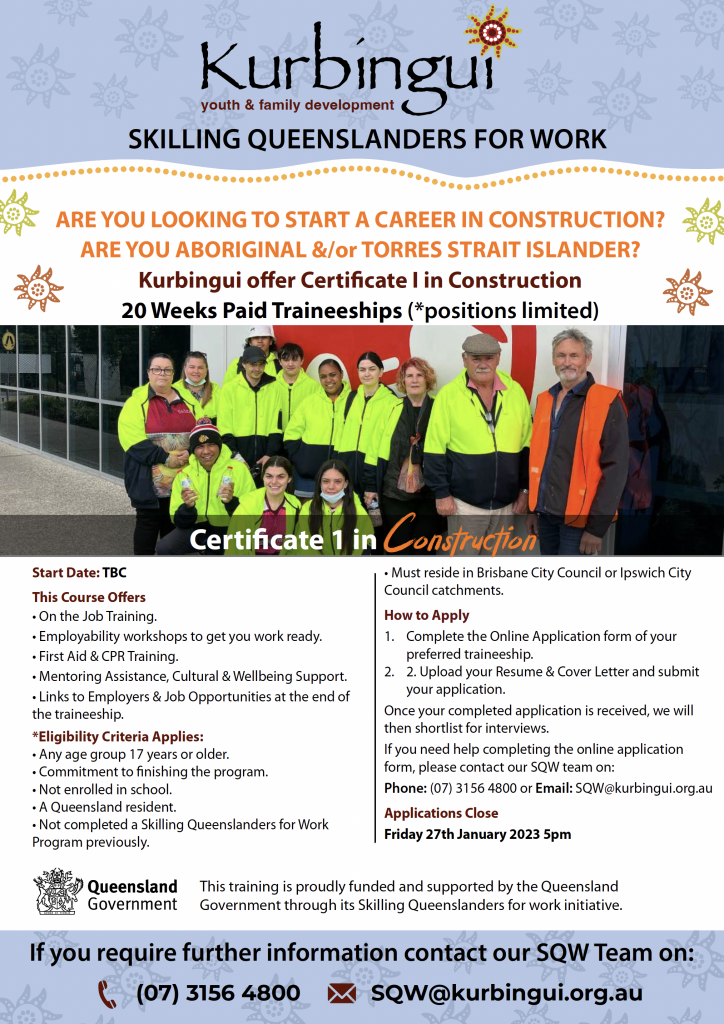 Kurbingui Youth and Family Development's 2023 Skilling Queenslanders for Work (SQW) Program is currently offering Certificate I in Workplace Skills (admin)
20 Weeks Paid Traineeships (*positions limited)
This Course Offers
On the Job Training.
Employability workshops to get you work ready.
First Aid & CPR Training.
Mentoring Assistance, Cultural & Wellbeing Support.
Links to Employers & Job Opportunities at the end of the traineeship.
*Eligibility Criteria Applies:
Any age group 17 years or older.
Commitment to finishing the program.
Not enrolled in school.
A Queensland resident.
Not completed a Skilling Queenslanders for Work
Program previously.
Must reside in Brisbane City Council or Ipswich City
Council catchments.
Start Date: First Intake February 2023
Times: To Be Advised (Depending on which course you are doing)
Applications Close: Friday 27th January 2023 at 5pm.
How to Apply
To apply the following must be completed:
Complete the Online Application form of your preferred Traineeship
Upload your Resume & Cover Letter and submit your application.
Once your completed application is received, we will then shortlist for interviews.
If you need help completing the online application form, please contact our SQW team on:
Phone: (07) 3156 4800 or Email: SQW@kurbingui.org.au