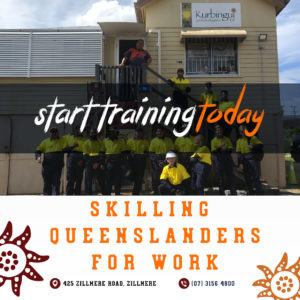 This Program is funded by the QLD Government Department of Employment Training and Small Business.
Skilling Queenslanders for Work
Kurbingui is funded by the Queensland State Government Department of Employment, Training and Small Business (DETSB) to deliver the Skilling Queenslanders for Work Program. Through this program, Kurbingui staff are able to provide opportunities for Aboriginal Torres Strait Islander job seekers to develop further skills and enter into the workforce. The Skilling Queenslanders for Work staff provide culturally appropriate tailored support and assistance, which includes learner support, while participants undertake a nationally recognised qualification.
Kurbingui and Skilling Queenslanders for Work objective is to provide the Aboriginal and Torres Strait Islander community of North Brisbane and Moreton Bay areas with opportunities to receive services based on their needs and to bridge the gaps identified. Overall, Kurbingui has continued to successfully provide the community with these and other opportunities to establish links and engagement while ensuring cultural networks and connections are maintained in a safe and culturally appropriate environment.
Certificate 1 in Construction
Additional Qualifications gained with this certificate includes;
White Card.
Working at Heights and Confined Spaces Tickets.
First Aid and CPR Certificate.
SQW Certificate I in Workplace Skills (Admin)
Additional Qualifications gained with this certificate includes;
Blue Card.
First Aid.
CPR Certificate.
Program Benefits
Through the support of Queensland State Government funding, Kurbingui is able to open new doors to skill development and create employment opportunities for local Aboriginal and Torres Strait Islander community members.
Local Elders and respected Aboriginal Torres Strait Islander Leaders within the community will also provide support and guidance to participants.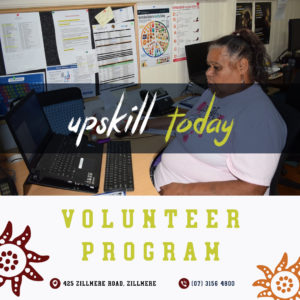 Kurbingui Volunteer Program
Volunteering expands your skills and experience, increases your employability and is a way to stay active and engaged with the community. It's also a way for you to give back to the community and help people who need a hand.
Program Benefits
Volunteering your time can make a difference to community and yourself in the following ways:
Gain new skills.
Share and expand your existing skills.
Meet new friends.
Increase your employability.
Stay active and engaged with community.
Give back to the community.