Murri's In Motion (TAEP Program)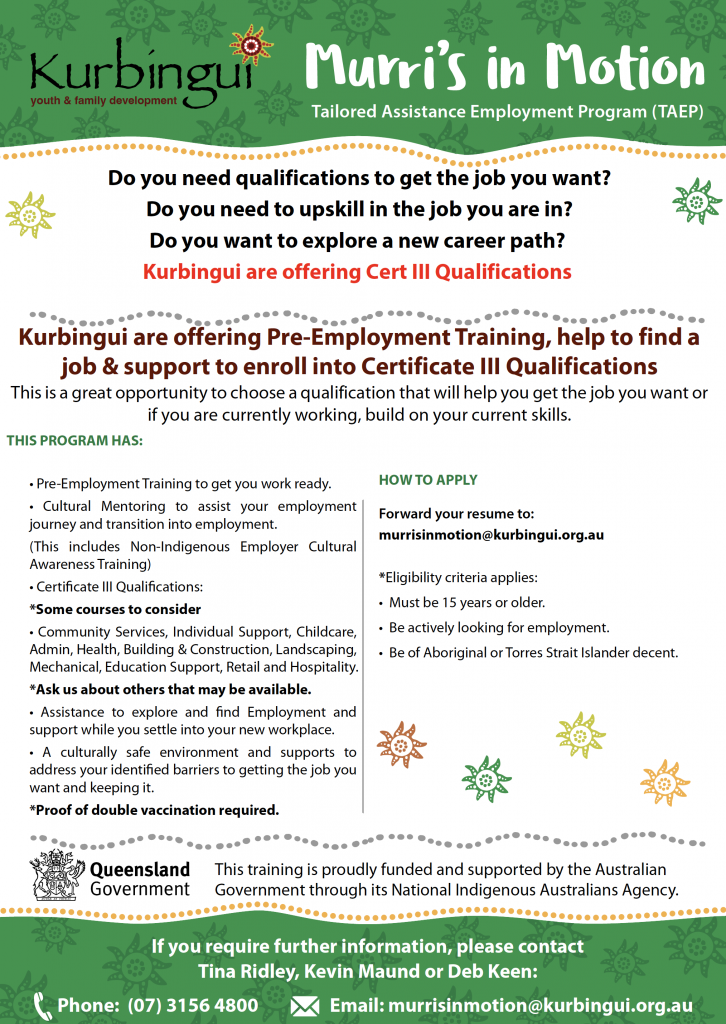 Murri's In Motion
Kurbingui are offering Pre-Employment Training, help to find a job & support to enrol into Certificate III Qualifications
This Program Has:
Pre-Employment Training to get you work ready.
Cultural Mentoring to assist your employment journey and transition into employment.
(This includes Non-Indigenous Employer Cultural Awareness Training)
Certificate III Qualifications:
*Some courses to consider.
Community Services, Individual Support, Childcare, Admin, Health, Building & Construction, Landscaping, Mechanical, Education Support, Retail and Hospitality.
*Ask us about others that may be available.
Assistance to explore and find Employment and support while you settle into your new workplace.
A culturally safe environment and supports to address your identified barriers to getting the job you want and keeping it.
*Proof of double vaccination required.
*Eligibility Criteria Applies:
Must be 15 years or older.
Be actively looking for employment.
Be of Aboriginal or Torres Strait Islander decent.
HOW TO APPLY
Forward your resume to: murrisinmotion@kurbingui.org.au