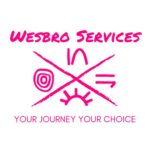 Website Wesbro Services
Your Journey Your Choice
About Wesbro Services:
Wesbro Services is an Aboriginal people service provider, offering support to NDIS customers. We are an NDIS Registered provider.
We help people get out and enjoy what life has to offer and inject fun into their day.
We specialise in delivering contextualised training and workshops, provide supported accommodation and assist customers with their personal needs.
About The Role:
We are currently looking for a support worker to join our team to work a 7 day rotating roster to provide support services to the Ipswich and surrounding areas to start ASAP.
Wesbro Services is looking for passionate and experienced disability support workers. We are looking for people that are reliable, flexible, take initiative and have a huge passion for this sector.
We are looking for candidates that are experienced in managing daily living needs such as:
* hygiene health needs
* personal self care
* domestic activities
* provide skill development for general life skills and daily needs
* use creative thinking when taking customers out to engage in social and community activities in order to help the customer work toward increased independence to meet their goals and objectives
Support Workers Must:
In order to succeed in this role, you will ideally posses the following:
* Have a genuine desire to assist people living with disabilities
* Conduct duties with a positive, caring, supportive and responsible attitude
* Be emotionally aware and adaptive with the ability to build and maintain working relationships with Wesbro Services customers
* Be able to give the customer full attention providing an ethical and efficient service
* Demonstrate confidentiality of customers and families in all matters relating to services provided to the customer and personal details
* Have the ability to communicate with customers, families and staff efficiently
* Be reliable, flexible, have initiative and use creative thinking
Requirements:
* Previous experience or knowledge of the disability sector
* Current Police Check
* Current Australian Driver's License
* Register and Insured own reliable vehicle
* Blue Card – or willingness to obtain one immediately
* Yellow Card – or willingness to obtain one immediately
* First Aid Certificate – or willingness to obtain one immediately
* NDIS Worker Orientation Module
* Have the capacity to work flexible hours over a 7 day rotating roster; including overnight shifts and weekends
* Ability to perform physically demanding duties such as: lifting, bending and carrying; adhering to OH&S guidelines
Applications:
Please address all submissions to hr@wesbro.com.au with your resume and a cover letter outlining why you are suitable for this role